http://www.aznraps.com/index.php/Features/Interviews/Hawaiian-Beatboxer-Jason-Tom.html


AZNRaps: When did you start beatboxing?
Jason Tom: My former high school classmate Jess Navarrete overheard me beatboxing to myself while I did classwork my freshman year, and I still remember the look on his face 'til this day. He was sitting far away from me, but the look on his face when he turned around was priceless. He thought I had hid a radio somewhere, but the music actually came through me. I had kept my beatboxing to myself then, and all of my former high school classmates/friends (except for Jess) had no idea that I beatboxed.

Back then I aspired to be a comic book artist and my other open option was to be an athlete in soccer or judo. After high school I eventually gave each a rest, and thought to myself why not give "beatboxing" a shot. But I've been beatboxing for fun since the age of four.

After my academic hiatus I decided to experiment on that idea during my fall 2004 semester in community college, and I promised myself a five year minimum run to see how it'd pan out. Five years later, and I'm loving every second of it. At the beginning I was extremely shy about it, and it was difficult for me to share the beatbox with others. It was and is that personal to me. Since January 2010 I now facilitate human beatbox (vocal percussion) workshops at the Diverse Art Center sharing the art form with the next generation of beatboxers, and I have no problem beatboxing on or off stage.


"At the beginning I was extremely shy about it, and it was difficult for me to share the beatbox with others. It was and is that personal to me."


AZNRaps: Did you know anybody else who beatbox'd locally, or were you the "first" in your area?
Jason Tom: "First" in my area regionally? Coming out of Honolulu's Chinatown to my fullest knowledge I am the first. As far as the island of Oʻahu is concerned I am far from the first. Through hearsay from sources in the local music and entertainment industry far longer than I've been alive there were many beatboxers before me during the 1980s and 1990s. These beatboxers I heard were influenced by human beatbox pioneers Doug E. Fresh, Buffy of the Fat Boys, Biz Markie, etc. The thing is that many locals outside of the scene have not been exposed by many of these local beatboxers.
Before I began to perform back in fall 2004 I didn't know anyone else on O'ahu that beatboxed. Over the years that I've been venturing out exposing the art form further I simultaneously exchanged contacts with other local beatboxers, and the human beatbox workshop is now our formal gathering place to help cultivate a Hawaii beatboxer community. We're in the process of brainstorming a Hawaii beatbox group name.

Hawaii may not know it yet, but there is heavy beatbox talent throughout the Hawaiian islands. I have beatbox workshop attendees that can perform sick vocal turntable scratches, a beatboxer that demonstrates rawness & originality, a beatboxer that can perform a million songs from his head, a beatboxer who is already known in high school for beatboxing that can go deep with his vocal acoustic bass technique that sounds like a big cruise ship, and I even have one attendee that specializes in drum and bass. Then I also have the beginners that are learning how to beatbox from scratch. I encourage all of these younger beatboxers to harness and hone their beatbox talent. I teach each beatboxer foundation, fundamentals, history, culture, the roots of beatboxing, and even a touch of intermediate to advanced techniques. I make sure we do warm ups, drills, and exercises repetitiously. I also have a high number of female attendees as well as male attendees. On occasion the ladies would outnumber the fellas. The sessions are a lot of fun, and time flies.
AZNRaps: How many different sets of "beatboxing" routines do you have. How do you develop a set that you can perform?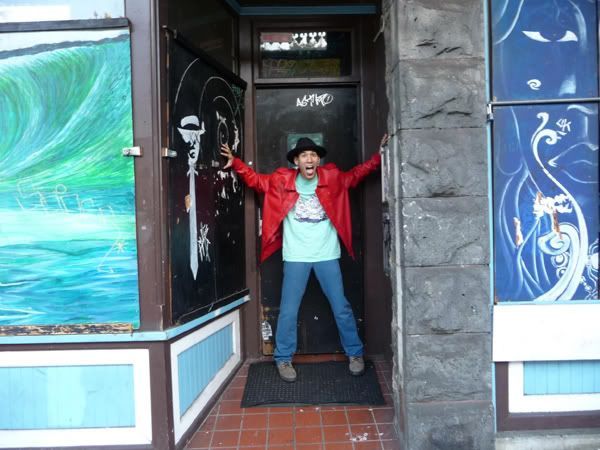 Jason Tom: It begins with a story. It has to or there is no point in performing. I think about incorporating improvisation, energy, a story, and routines into my set to increase the spontaneity in relation to a show I do. I perform gigs anywhere from 10-15 minutes depending on the type of show, but I didn't always have that at the beginning stages of my career since the art form is rare in Hawaii. When I have long slots and an engaged crowd I tell a story through my performance. The crowd connects with me on an intimate and deeper level when I do.

I have a load of Michael Jackson songs in my repertoire since that's how I developed a foundation of beatboxing techniques. For example I perform Michael Jackson's "Bad" and "Who Is It" to share with an audience the story about how I developed specific beatbox techniques associated with the song.

What I perform depends on the crowd I perform for and the type of event I'm doing. For instance when I performed for the Night In Chinatown Festival block party on the main stage of Smith/Hotel Street the crowd loved my rendition of Michael Jackson's "Rock With You," and they sang along with me in a way that they knew the song like the back of their hand. It moved me that I was able to move them in such a way. They ate that one up! Then when I performed for the Chinatown Open House at the Chinatown Cultural Plaza Moongate Stage I incorporated my Mandarin and Cantonese speaking to introduce myself about what I do. The Chinese kids loved my Cantonese lullaby rendition of "有隻雀仔跌落水 (有只雀仔跌落水)," especially when I incorporated my bird calls. A crowd fave is my Michael Jackson "Billie Jean" routine. For that one, I beatbox, dance, and sing at the same time. The coordination to do all that is quite a task, and I also incorporate the moonwalk. I also perform Ozzy Osbourne's "Crazy Train," my originals, and a bunch of other medleys that I come up with with no backing track.
AZNRaps: How do you practice beatboxing? Is it a process of trial and error to get a certain sound or are there exercises that you do to help you?
Jason Tom: It's a metaphysical process of becoming an instrument of music, and a human sound machine. I often have people tell me that I sound like a machine and that I sound like real music. I approach beatboxing as a musician, and I can break nearly every technique that I do down to a hand made instrument or a part of an instrument.

I practice a lot differently today than how I used to due to experience, and it's a load of fun!

I play with melody, notes, feel, vowels, shapes, timbre, direction, space, and syllables with my voice. I play with my mouth drumming and vocal percussion as well. I practice my originals, covers, and my freestyles. I really enjoy playing with my range. I have a deep vocal didgeridoo technique that eventually became a hybrid beatbox technique that sounds like from what I've been told a Kargyraa style of throat singing, but I add vocal percussion as well mouth drumming into it. I don't hear other beatboxers perform such a technique in such a way. I also have a high vocal synthesizer technique that I came up with last year through experimentation of my vibrating vocal cords as well as my vocal range.

Oh, and I practice with water....
AZNRaps: What kind of equipment do you use for your live performances?
Jason Tom: I own and use my personal cord Shure Beta 87A supercardioid condenser performance microphone whenever I can. I love the warmth, accuracy, consistency, and naturalness of a sound that that mic gives me as a beatboxer.
AZNRaps: Why do you think its important to teach beatboxing workshops?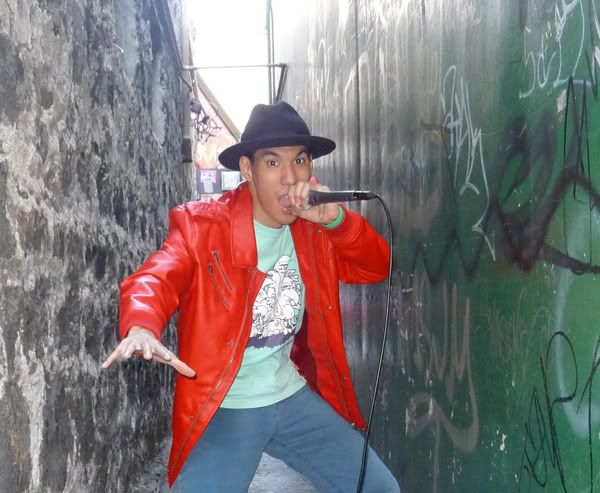 Jason Tom: Facilitating human beatbox workshops is one of the best ways for a Hawaii beatbox community to be cultivated, because I pass on foundational knowledge as well as applicable beatbox skills. I never had a local beatbox role model growing up in the Honolulu community, and thus that's why I keep doing what I do. Hawaii is behind on beatboxing in terms of community, but Hawaii's beatbox talent is definitely there. The beatbox art form is a credible art form, and it's not a novelty act.
"Hawaii is behind on beatboxing in terms of community, but Hawaii's beatbox talent is definitely there. The beatbox art form is a credible art form, and it's not a novelty act."


AZNRaps: How are you influenced by other beatboxers, such as the Chinese beatboxer "Bozi," for example. Who are your beatboxing influences?
Jason Tom: To be honest I never heard of "Bozi" until this interview, but it looks like he's a beatboxer from Beijing? I think it's awesome how beatboxing is blowing up in China thanks to YouTube, and I read that the 1st National Beatbox Championship in China happened in 2009 in Shanghai. I am currently in talks to perform in Shanghai, China this 2010. I've been to China twice prior (2006 & 2008), but I've never met any of the local beatboxers from China. I'm of a different era of a beatboxer who didn't grow up with a household computer or Internet access. So I've initially picked up the beatbox art form through my own experimentation without prior exposure.

My biggest beatbox as well as musical influence is Michael Jackson. Many may not realize it, but Michael Jackson wrote most if not all of his hit songs utilizing beatboxing as a foundational songwriting tool. Other vocal music and beatbox influences include Bobby McFerrin, Michael Winslow, Rahzel, C.R. Avery, Joel Spiral, Killa Kela, and Beardyman. I had the honor to open up for Michael Winslow last year, and that was my biggest show to date. I had a blast.
AZNRaps: What advice would you offer those who wanted to pick up beatboxing if they lived in an area that didn't have a beatboxing community or learning workshops to facilitate that desire?
Jason Tom: I would advise them to do their personal research and homework on beatboxing if they're really interested in picking up the art. The Internet is such an empowering resource, and that helped me to first discover the "name" and "term" of the art form I started doing since the age of four. Since beatboxing isn't often documented or discussed about on mainstream media, beatboxers should do as much research on his/her own time to understand the roots of the art form by heart.

Beatboxing, like the four elements of hip-hop (turntablism, emceeing, breakdancing, street art), is a serious art form that requires time and discipline to develop. If those who are already beatboxing who don't have a community or workshop in his or her area, I advise them to not stop, and to keep pursuing it as a serious art form. Get out there, spread the art form locally, and you will eventually meet other local beatboxers or inspire others to pick up the art form. I would advise him/her to practice as often as possible (i.e. everywhere you go, but there is also an appropriate time & place for it too), experiment a lot, be original, discover your own voice, check out local performance venues of all sorts (i.e. open mics, festivals, concerts, jam sessions, parties, etc.), get out of your own comfort zone, and be(at) out the box.
AZNRaps: Anything else you want to add?
Jason Tom: Additional resources: You may write me at jasontom.com, and check out an awesome online beatbox resourcehumanbeatbox.com.